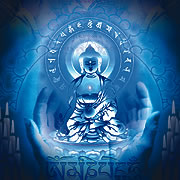 Mandala .:. The Sacred

"Mandala (Sanskrit for circle, polygon, community, connection.) Is defined as a schematized representation of the cosmos or the self, chiefly characterized by a concentric configuration of geometric shapes."

"In antiquity, the cosmos was its own form of consciousness, interrelated and crossing through the very fibers of human being. As individuals acted the cosmos unfolded in a unique way. As the cosmos unfolded it influenced the action of individuals. Like the cosmic tree, life was a continuum of energy flow from rooted course matter, to the material temporal mind, upwards towards branching celestial space, finally blossoming in transcendent time and consciousness. Thus, it is not surprising to find the Buddha teaching transcendence out of the worlds by obtaining to a conscious state that was beyond human care and illusion but hermetically bound to the palpable rhythms of a conscious universe–the universe as it really is. This is revealed in the Buddha's statement, "But suffering is not the true nature of the universe. Suffering is the result of the way we live and of our erroneous understanding of life" (Hahn 152). In this light, the Buddha's revelation was that the universe was not just a spatial entity but a time-transcendent, conscious reality in which anyone could participate upon awakening."

"A Sanskrit term borrowed from India and Tibet. A mandala is holy circle or bounded place that is a representation of wholeness. Mandalas are devices that remind us of our unity with God and with all living things."